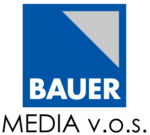 Media Group Mafra | Archive digitization
Bauer Media v. o. s. is a Czech publishing house owned by the German company Heinrich Bauer Verlag KG. In autumn 2018, most of its activities were acquired by the media house MAFRA. The publishing house produced a wide range of social magazines, while its subsidiary Bauer Media Prague focused on lifestyle titles.
More info: www.mafra.cz
To develop a project to digitize the magazine archive (the predecessor of the current Television Weekly), to unify the output sizes of the individual formats and to maintain a graphic resolution that will allow immediate use in graphic preparation for print.
We used powerful Kodak Alaris document scanners and Epson graphic scanners to digitize paper photographs, magazine covers and slide and negative photo materials.
The outcome of the entire project was a new digital archive of various types of image templates (photographs, slides, negatives) and paper documents (programmes, invitations, postcards, magazine covers, photographs from cinema signboards) and a sorted and clearly labelled archive of original materials.
Used applications and hardware