We are the authorized distributor and certified Service Centre for premium Kodak Alaris document scanners in the Czech Republic and Slovakia.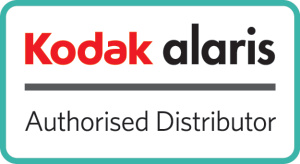 We can offer you a complete portfolio, from basic models, desktop scanners to high-performance production scanners through our wide distribution network. Reliability, speed and flawless operation are the main reasons why we also use Kodak Alaris scanners for our own digitization projects. Our extensive experience will help you choose the right scanner to meet your needs, one that can easily handle the structure and volume of your documents.
All supplied scanners include the basic scanning application Kodak Capture Pro Limited Edition for routine scanning tasks. Fast, high-volume scanning, as well as scanning more complex jobs and other subsequent image adjustments, including smart editing, OCR, indexing and so on requires the Kodak Capture Pro Full Edition. Of course, you can also scan with other applications, using standard TWAIN drivers, ISIS, etc.
More about Kodak Capture Pro.
Document scanners